| | |
| --- | --- |
| This article is written from the Real World perspective | |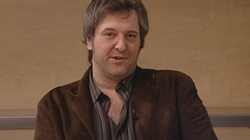 Momcilo "Butch" Lukić is a long-time collaborator of Bruce Timm. He served as a storyboard artist on "Fear of Victory" and provided storyboards to many episodes. With The New Batman Adventures, he also became a director, and directed episodes of The New Batman Adventures, Superman: The Animated Series, Batman Beyond and Justice League. He directed the final episode of Justice League, "Starcrossed", before giving directorial duties for Justice League Unlimited to Joaquim Dos Santos and becoming a storyboard artist on Dan Riba's crew during Justice League Unlimited.

DCAU Filmography
External links
Ad blocker interference detected!
Wikia is a free-to-use site that makes money from advertising. We have a modified experience for viewers using ad blockers

Wikia is not accessible if you've made further modifications. Remove the custom ad blocker rule(s) and the page will load as expected.