| | |
| --- | --- |
| This article is written from the Real World perspective | |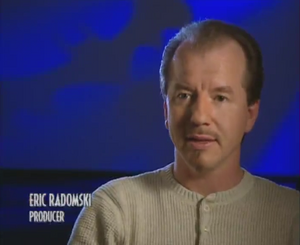 Eric Radomski served as the co-creator and co-producer of Batman: The Animated Series along with Bruce Timm. He was known for his definitive style of background painting, specifically painting backgrounds on black paper to give Batman: The Animated Series a darker look and feel. He left Warner Bros. after a successful tenure, but later returned to join the production team for shows such as Xiaolin Showdown and Shaggy & Scooby-Doo Get a Clue!
DCAU filmography
Feature films
External links
Ad blocker interference detected!
Wikia is a free-to-use site that makes money from advertising. We have a modified experience for viewers using ad blockers

Wikia is not accessible if you've made further modifications. Remove the custom ad blocker rule(s) and the page will load as expected.