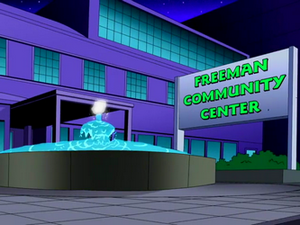 The Freeman Community Center was a charitable foundation in Dakota.
History
The Center on Dakota's Ferris Row was run by Robert Hawkins, and kept running by charitable donations, including several large ones from Edwin Alva. From the center, Hawkins provided aid to the city's poor, the homeless, runaways and anyone else who would need his help.
This article is a stub. You can help the DC Animated Universe Wiki by expanding it.
Background information
The Freeman Community Center refers to Augustus Freeman, the philanthropic alter-ego of superhero Icon. A flagship title in Milestone Comics' line-up, Icon, like fellow Milestone character Hardware, failed to appear on Static Shock due to restrictions on adult superheroes (and supervillains) imposed by the Kids WB, according to Milestone founder and writer Dwayne McDuffie; per Kids WB's dictum, the adult heroes would have needed to be reinterpreted as teenage contemporaries of Static. While this was eventually dropped and adult heroes and villains were allowed to appear on the series, neither Icon nor Hardware appeared on Static Shock.
Sightings
Ad blocker interference detected!
Wikia is a free-to-use site that makes money from advertising. We have a modified experience for viewers using ad blockers

Wikia is not accessible if you've made further modifications. Remove the custom ad blocker rule(s) and the page will load as expected.