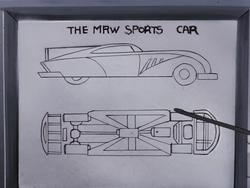 The Global Motors MRW or MRW Sports Car was a car by Global Motors.
History
The design of the MRW took a long time, and, when everything was ready, engineer Earl Cooper found a flaw in the brake system. He reported it, but the company's CEO was too eager to commence production that he ignored Cooper. After an attempted murder on Cooper, the scandal reached the press. The MRW was never produced, and Global Motors went out of business soon after.
Appearance
Ad blocker interference detected!
Wikia is a free-to-use site that makes money from advertising. We have a modified experience for viewers using ad blockers

Wikia is not accessible if you've made further modifications. Remove the custom ad blocker rule(s) and the page will load as expected.