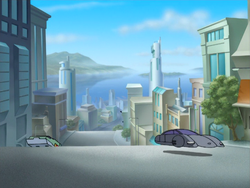 Golden Bay City was an American city.
History
The city was noted for its bay-spanning bridge, the Golden Bay Bridge, and an old tramway that ran up the hills. It was the seat of Golden World News, the text news agency of Pat Jensen.
This article is a stub. You can help the DC Animated Universe Wiki by expanding it.
Background information
Golden Bay City's geography, appearance, and landmark bridge and trams are based on San Francisco.
Sighting
Ad blocker interference detected!
Wikia is a free-to-use site that makes money from advertising. We have a modified experience for viewers using ad blockers

Wikia is not accessible if you've made further modifications. Remove the custom ad blocker rule(s) and the page will load as expected.