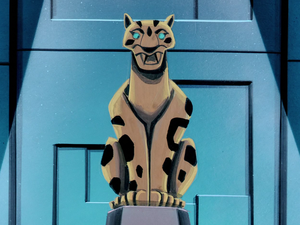 The Jaguar of Verdeza was a Verdezan relic.
History
Paxton Powers hired the Royal Flush Gang to steal the Jaguar statue from a Gotham City museum. In a fight with Batman, the statue was lightly damaged, and Powers refused to pay the promised price. He did take the statue, however, and stored it with his other Latin American valuables.
Sighting
Ad blocker interference detected!
Wikia is a free-to-use site that makes money from advertising. We have a modified experience for viewers using ad blockers

Wikia is not accessible if you've made further modifications. Remove the custom ad blocker rule(s) and the page will load as expected.