| | |
| --- | --- |
| This article is written from the Real World perspective | |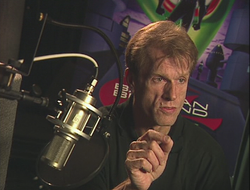 Kevin Conroy (born November 30, 1955 in Westbury, New York) is a prolific actor most famous in the DCAU for providing the voice of Batman.

DCAU filmography
Notes
Kevin Conroy's landmark portrayal, which lasted longer than any other actor of Batman (live action or animated), has pressed its stamp on the Dark Knight's legacy forever.
Coincidentally, Conroy shares a birthday with the late Efrem Zimbalist Jr..
Conroy used two different voices (the first one to ever do this) for Batman (one for Bruce Wayne and one for the Dark Knight) on Batman: The Animated Series. However, he used only one voice for Batman and Bruce Wayne on The New Batman Adventures. For Batman Beyond, he used a much gruffer voice for Bruce Wayne's elderly incarnation, and less gruff and softer voice for Batman on Justice League and Justice League Unlimited.
Conroy continues to voice Batman on non-DCAU projects similar to Mark Hamill as the Joker, Clancy Brown as Lex Luthor, Susan Eisenberg as Wonder Woman, and both Tim Daly and George Newbern respectively as Superman.
Aside from voicing Batman on non-DCAU projects, Conroy provided the voices of other characters connected to Batman: John Grayson in The Batman, and the Phantom Stranger and Batman of Zur-En-Arrh in The Brave and the Bold. Both times, Conroy was opposite Hamill voicing characters.
Conroy provided the voice of the character in The Complete Robin Storyboard Sequence, Batman: Gotham Knight, Superman/Batman: Public Enemies, Superman/Batman: Apocalypse, Batman: Arkham Asylum, Batman: Arkham City, DC Universe Online, Justice League: Doom, and Injustice: Gods Among Us.
See also
External links
Ad blocker interference detected!
Wikia is a free-to-use site that makes money from advertising. We have a modified experience for viewers using ad blockers

Wikia is not accessible if you've made further modifications. Remove the custom ad blocker rule(s) and the page will load as expected.