| | |
| --- | --- |
| This article is written from the Real World perspective | |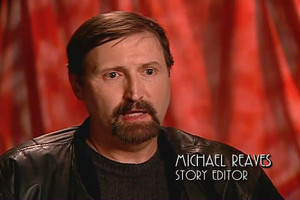 James Michael Reaves (born September 14, 1950 in San Bernardino, California) is an American television writer. His work includes episodes of Gargoyles, Tiny Toon Adventures and Star Trek. Earlier contributions to DC series include episodes on Shazam!, The Secrets of Isis, Superman, Swamp Thing and The Flash.
DCAU Filmography
Feature films
Feature films
External links
Ad blocker interference detected!
Wikia is a free-to-use site that makes money from advertising. We have a modified experience for viewers using ad blockers

Wikia is not accessible if you've made further modifications. Remove the custom ad blocker rule(s) and the page will load as expected.