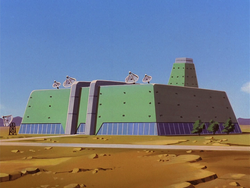 The Nimbus Tracking Station was a U.S. Army meteorological facility.
History
From the Station, its commander General Richter tracked the actions of the Weather Wizard. The Central City extortionist used her as his liaison with the government.
Appearance
Ad blocker interference detected!
Wikia is a free-to-use site that makes money from advertising. We have a modified experience for viewers using ad blockers

Wikia is not accessible if you've made further modifications. Remove the custom ad blocker rule(s) and the page will load as expected.