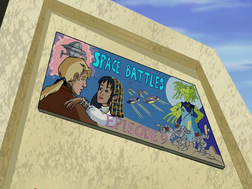 Space Battles Episode 9 was a science fiction blockbuster.
History
Hotstreak did not like the movie. After seeing it, he tore up the Dakota Multiplex, but he was stopped by She-Bang.
Background information
The reaction of Hotstreak after seeing Space Battles Episode 9 is a reference to the negative criticism that received the movies of the Star Wars prequel trilogy. The movie's title itself mirrors the tradition of title each Star Wars movie as an episode. Coincidentally, there is in development a ninth Star Wars film currently entitled Star Wars: Episode IX which is due for release in 2019.
Sighting