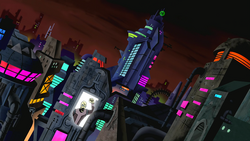 The Third Moon of Goltos was an inhabited moon in the Omega Quadrant.
History
A meeting point for travelers from all corners of the universe, the moon was one of Hawkgirl's favorite haunts. She often went to Faz' club to celebrate.
Sighting
Ad blocker interference detected!
Wikia is a free-to-use site that makes money from advertising. We have a modified experience for viewers using ad blockers

Wikia is not accessible if you've made further modifications. Remove the custom ad blocker rule(s) and the page will load as expected.