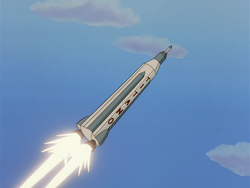 The Titan 0 was a rocket.
History
The rocket was used to carry Titano the monkey into space. Unfortunately, some time after its launch, the booster rocket got detached from the capsule, spinning the monkey helplessly off course. The capsule eventually lodged itself in a meteor.
Sighting
Ad blocker interference detected!
Wikia is a free-to-use site that makes money from advertising. We have a modified experience for viewers using ad blockers

Wikia is not accessible if you've made further modifications. Remove the custom ad blocker rule(s) and the page will load as expected.