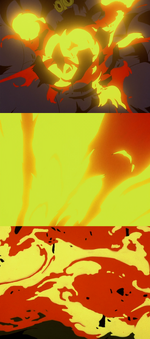 Toyman's toy factory explosion, as the name suggests, refers to the explosion of Toyman's toy factory from the Superman: The Animated Series episode, "Fun and Games". What makes this particular explosion more notable than all the others is the fact that its footage was used in several other episodes of the show, so as to enhance an explosion of lesser quality. This footage was eventually extended to other DCAU shows that followed Superman: The Animated Series until it was completely replaced by the Jolly Jack candy factory explosion.
The Toyman's toy factory explosion consists of three sequences: it is set off by the clock bombs explosion, then it ensues a fire eruption through the air vent that Superman evades with Lois Lane and Bruno Mannheim in tow, and it finally culminates with the barn explosion that blows the factory away.

See also
Ad blocker interference detected!
Wikia is a free-to-use site that makes money from advertising. We have a modified experience for viewers using ad blockers

Wikia is not accessible if you've made further modifications. Remove the custom ad blocker rule(s) and the page will load as expected.