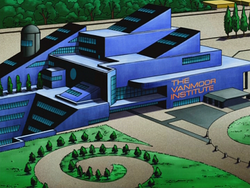 The Vanmoor Institute for Science was a school for genius kids. Daisy Watkins studied there, before being transferred to Dakota Union High. It is later revealed that the government shut down the school because of the events prior. However, Specs and Trapper continued to use the school as their hideout.
This article is a stub. You can help the DC Animated Universe Wiki by expanding it.
Appearances
Ad blocker interference detected!
Wikia is a free-to-use site that makes money from advertising. We have a modified experience for viewers using ad blockers

Wikia is not accessible if you've made further modifications. Remove the custom ad blocker rule(s) and the page will load as expected.