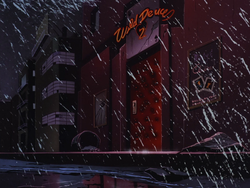 The Wild Deuce was a club in Gotham City.
History
After his brutal scarring at the hands of Rupert Thorne, Two-Face arranged for his old fiancée Grace Lamont to meet him at Wild Deuce. However, Thorne's associate Candice had managed to con Grace into giving up the location, and Thorne and his gang ambushed Two-Face.
Sighting
Ad blocker interference detected!
Wikia is a free-to-use site that makes money from advertising. We have a modified experience for viewers using ad blockers

Wikia is not accessible if you've made further modifications. Remove the custom ad blocker rule(s) and the page will load as expected.